⚠️ This page is incomplete. ⚠️
The seventh[Notes 1] season of The Guerilla Wolves, premiered in Fall 2013 on Wolf TV. Twenty-two episodes were released in the seventh season. Season seven came after the fifth season of the show (yes, fifth and not sixth) and was later followed up by an eighth season of Guerilla Wolves in the Fall of 2014.
This was the first season of Guerilla Wolves that had entire episodes directly uploaded to the StPaulGuerillaWolves YouTube channel.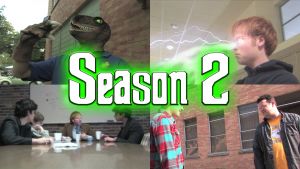 Season 7 Episodes
Episode 1-3
These episodes were never uploaded to YouTube. The premiere editing files for the episodes still exist, however the footage has been lost.
Episode 4
Episode 5
Episode 6
Episode 7
Episode 8
Episode 9
Episode 10
Episode 11
Episode 12
Episode 13
Episode 14
Episode 15
Episode 16
Episode 17
Episode 18
Episode 19
Episode 20
Episode 21
Episode 22
Along with Episodes 1-3, Episode 22 was never uploaded to YouTube. The premiere editing file for this episode still exists, however, the footage has been lost. This Episode contained a modified field day segment. The full unedited segment was reuploaded to YouTube in the 2022 Remaster.
Additional Content
Teacher Goes Back To 1963
Field Day 2014
Credits
Technical
Release 
Number of Episodes

22

Release medium
Wolf TV
YouTube
Original release
Fall 2013 -
Spring 2014
Technical Specifications 
Music Used
Trivia
Notes
References
↑

The Saint Paul's School (2014). The Conifer [Yearbook].